Finest menus made from ingredients
in human-grade quality
In nature, cats hunt their prey for direct consumption. Each hunt means a freshly caught meal. In this way, the cat instinctively provides itself with nutrients of exceptional quality and maximum freshness.Terra Felis follows this unique quality concept of nature. For the menus, only human-grade quality ingredients are used. This makes Terra Felis the first cat food in 100 % human-grade quality of all ingredients, setting it apart from all other products on the market in terms of quality. This quality and freshness is reflected in the exceptionally appetising and exquisite smell of the menus and leads to good acceptance.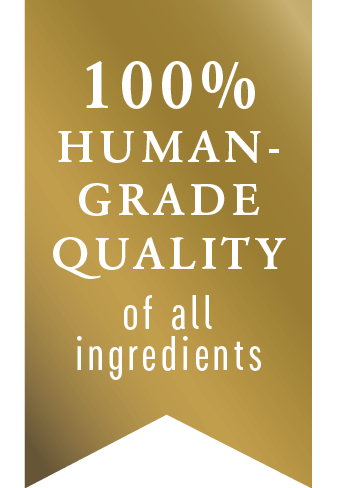 Cats love freedom. And nature. For them, the world outside is a paradise full of possibilities that they can roam around in and go their own way, just like cats are wont to do. In the wild, cats can hunt lots of prey and therefore find gastronomic treats that are species-appropriate, healthy and taste good to them. At home, this paradise should be offered in the bowl. The Terra Felis menus are based on this natural nutrition concept. Fresh ingredients in human-grade quality, species-appropriate recipes and a very high meat content imitate prey in a natural way and thus offer the cat, as a carnivore, a healthy diet that is modelled on nature. Learn more…
What greater gift
than the love of a cat?
(Charles Dickens)
What makes Terra Felis so unique...
Two factors are essential for healthy and species-appropriate cat nutrition: The quality of the raw materials and the appropriate composition. Both should correspond to the natural prey in the wild and the evolutionary predefined food concept of a cat. Terra Felis builds on this: Terra Felis is the first cat food on the market in 100% food quality of all ingredients. Due to the very high quality of the raw materials, the menus smell extremely appetizing and delicious. This is what makes Terra Felis so unique and what sets it apart from almost all other products on the market. The menus were developed with veterinarians, consist of 90% meat and high-quality offal or fish fillet, are grain-free and contain, in addition to taurine, all the fatty acids, vitamins, minerals and trace elements essential for cats.
Find out more about food quality & appropriate cat nutrition ...